You are here: Products > Testing Facilities / Pilo…
Testing Facilities
For product development oilRoq provides the opportunity for test runs in our pilot plant, both for hydrogination as well as interesterification processes. We are also in a position to produce certain quantities of product at a given specification when requested..
Also filtration trials (solid/liquid) may be conducted.
Pilot Plants
For process development, product development or small scale production we design, manufacture and deliver pilot plants for all kinds of process.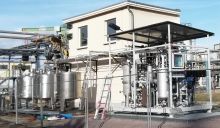 ---
oilRoq GmbH Specialist in Pilot Plants