You are here: Products > Filtration Technology
Filtration Technology
oilRoq has experience in filtration technology for decades and is offering plants for various applications in the oleo-chemical and vegetable oil industry. Different type of filter are applied as are:
Vertical pressure leaf filter
Candle filter equipped with textile candles
Candle filter equipped with metal candle for high temperature application
Bag type filter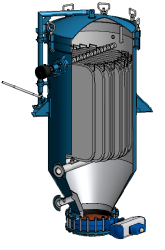 Since 2010 we are offering vertical pressure leaf filter of own production with filtration area of a range from 5 m² to 55 m². The filter are manufactured in Germany. The filter are executed alternatively with a classic "dry-discharge system", a so called "wet discharge system" or a combination of both discharge systems.
---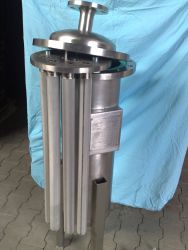 Candle filter with metal candle are of our own design and are commonly used in catalyst recirculation plants.
However, such filter may also be used for cross-flow filtration processes as for cooling circuits at magnet driven pumps e.g.