You are here: News
News
19.10.2022
Project ASKAT
In September 2022 we put our demonstration plant into operation for the federally funded project ASKAT - catalytically (KAT) produced formic acid (AS).
This represents the demonstration of a cost-effective, climate-neutral process for the production of the versatile platform chemical "formic acid" (AA) based on bio-based carbon.
Project sponsor: Institute for Non-Classical Chemistry e.V.
Network/cooperation partners: Shell Catalysts & Technologies Leuna GmbH, oilRoq GmbH.
---
10.05.2022
Meet us at Oil&Fats 2022!
Oil&Fats, taking place in München from 12th to 16th September, 2022 is the world´s leading trade fair for the beverage and liquid food industry.
Of course, oilRoq GmbH will be represented with a stand again this year.
This year you will find us in Hall C3, Booth 644.
Visit us at our stand and get in touch with us. We would be happy to assist you in solving your task.
More information you can find here:
---
27.10.2021
Cross-industry business trip by German and Moroccan entrepreneurs in Dakar, Senegal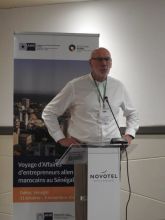 In November 2021, oilRoq GmbH and its sales representatives for West Africa took part in an economic symposium for Germany, Morocco and Senegal (the most growing markets in Africa).
The capital Dakar is an important regional industrial location and therefore our goal is to explore business opportunities in Senegal, to familiarize ourselves with the economic and social environment and to promote relationships in our business areas.
---
27.09.2021
Order process plant in Asia
oilRoq has started a new major project in Malaysia.
Our company will take on a expansion of the process plant and esterification.
---
20.04.2020
New Order: Pilot Plant for Diesel fuel finishing
oilRoq received the order for design and erection of a Pilot Plant for Diesel fuel finishing. Design and erection of the Pilot Plant could be finalized in shortest possible time. The test run could be completed successfully in the meantime.
---